By Joey Amezquita
---
I was born in Villa Palmeras (Shanghai), Santurce, a barrio in Puerto Rico, the second of four children. Like many housing projects, it is mired with social problems associated with chronic, multigenerational poverty.
Breaking Free from Poverty
Wanting a better life for his family, my dad joined the U.S. Army. (As citizens of the United States, Puerto Ricans have participated in every major U.S. military engagement since 1899.) This afforded us a much safer, middle-class lifestyle than we would have had if we had stayed in Villa Palmeras, but we moved a lot. My dad's first orders were to Maryland. From there we would move to Fort Lewis in Washington state; then to Long Island, New York; then Fort Dix, New Jersey; and then to the Strassburg Kaserne base in Idar-Oberstein, a city in southwest Germany.
I loved Germany. Even though I was only nine years old when we moved there in December of 1984, I remember how breathtakingly beautiful it was. Instead of living in the barracks, we lived in a gorgeous, four-story house. We would play outside in the snow and run throughout the house's secret passages that former occupants had used to hide Jews.
After twelve years of service to his country, my dad decided to leave the military in 1987 and relocate our family to Florida. Leaving Germany was tough. I was eleven years old and had to leave behind a strong core group of friends.
We would play outside in the snow and run throughout the house's secret passages that former occupants had used to hide Jews.
I started working in law enforcement at the ripe old age of 19! Even though I was somewhat of a "class clown" growing up and a ringleader for good or mischief among my siblings and friends, my dream had always been to become a police officer to help the community. At that time my dad was working in probation and parole, and he and my high school sweetheart, Christina, encouraged me to pursue my dream.
I was employed August 15, 1995, as a corrections officer by the Polk Correctional Institution, a state prison for men located in Polk City, Florida. The inmates assigned to Polk Correctional Institution were male and had been sentenced for a period of anywhere from one year and a day up to a lifetime. The inmates at the work camp where I worked had less than five years left on their sentences before they would be allowed to go home.
Since I resided in Brandon, Florida, an hour away from the Polk Correctional Institution, I decided to transfer to the Orient Road Jail with the Hillsborough County Sheriff's Office in Tampa, and on November 3, 1997, I began my new assignment working the night shift at the Orient Road Jail. In January of 2000, I transferred to Morgan Street Jail and continued working on the night shift. Morgan Street housed federal inmates and approximately 50 county jail inmates.
Breaking Free from Sin
In June of 2001 my life changed forever. Although my dad was a loving father, he did not have a relationship with Jesus and had not modeled a godly lifestyle for me. I had been raised knowing there was a God, but I was missing a relationship with Him. I had a fear of dying and of the unknown.
Christina invited me to special services at a church called Tabernacle of the Faith of Tampa (Tabernaculo La Fe de Tampa). Two weeks earlier, her co-worker, Kathy, had invited Christina to the church and unbeknownst to me, Christina had given her life to Jesus Christ. She now had eternal life.
I agreed to attend the service and found myself setting foot into Tabernaculo La Fe. As I sat down in the pew and listened to Pastor Tejara preach, I felt as if he were looking right at me. When Pastor Tejara said that I was a sinner and hell bound, that if I were to die that day, I would be separated from God forever and spend the rest of eternity tormented in hell, I was so scared. I did not want to go to hell forever.
At that moment, Pastor Tejara asked anyone in the audience who wanted to give their heart and life to Jesus to raise their hands. I was nervous but also felt a peace I had never experienced before come over me. I raised my hand, repented of my sins, and accepted Jesus Christ into my heart as Lord and Savior. Christina and I were the first people in our families to give our hearts to the Lord. I bought my first Bible and started reading God's Word and attending Bible study with Christina.
When I would get an assignment, I would pray on the way, asking the Lord to send His angels down and to help me be slow to speak and slow to anger and to give me supernatural peace.
Christina and I had been together since April of 1994, and the Holy Spirit began to deal with us about getting married. My good friend and co-worker Ed, who was a Christian, encouraged us to go to the courthouse and get married out of obedience to God's Word. We made the decision not to wait any longer, and on February 22, 2002, Christina and I went downtown to the courthouse in Tampa and got married. This was the second most important decision in my life.
God honored and blessed our obedience to get married. When I started reading the Bible, the Word of God came alive and I felt such excitement, joy, peace, and fulfillment. I had never really loved to read before, but now I couldn't wait to read God's Word. I loved it so much. The Bible is the blueprint for life. Everything is in the Word of God: advice on finances, marriage, children, depression, sin, prophets, and godly living.
The more I read God's Word, the more my faith increased. I no longer had a fear of the unknown and dying. I had an awesome supernatural peace and joy. I would pray before going into work. Often I would go into a cell with 30 inmates who had been convicted of murder and other violent crimes, and a peace would come over me.
Once one of the inmates, trying to intimidate me, asked, "If the door were to 'accidentally' close behind you and you were stuck in here with us, would you be scared?"
I boldly replied, "No, I would not be scared because I have an angel assigned to me and God will protect me and not let any harm come to me." I quoted Isaiah 54:17: "No weapon that is formed against you will prosper" (NASB 1994). I told the inmate I didn't have to physically fight him because God will fight all my battles. I let him know that I fear God not man, finished the cell search, and exited the cell.
Breaking Free of Barrenness
I started applying what I was learning from the Bible into my everyday life with my marriage as well as with my job. It was awesome. Years ago the doctors had told Christina she could not have children. Nonetheless, in 2003 my wife gave me great news: she was pregnant! We were overjoyed! I believe the Lord blessed us with this miracle by allowing her to have children because we were in right standing with God.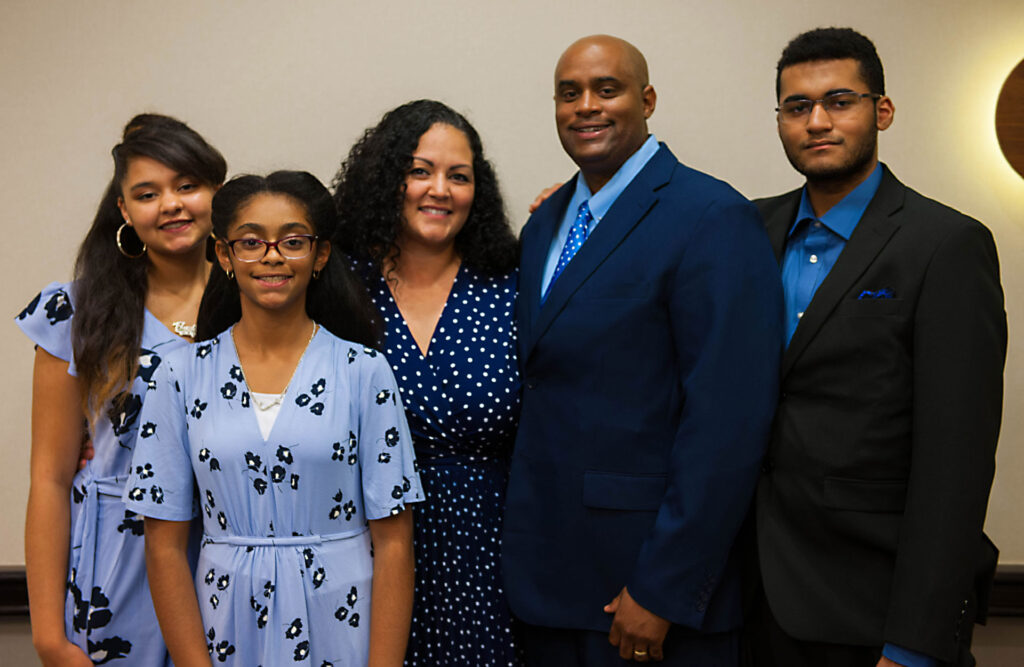 About this time, I was reading 2 Kings 22:1 and learned about this young eight-year-old king named Josiah. King Josiah, whose name means "the Lord will support you," was one of the very few kings in the Old Testament that did what God asked him to do without hesitating. I love his story, so I wanted to name my son Josiah. However, my wife wanted Josiah to be his middle name, not his first name. Well, my mamma didn't raise no fool, so we named our son Justin Josiah. (Happy wife, happy life!) In December of 2005 the Lord blessed us with a beautiful little girl we named Jayla. In February of 2009 the Lord blessed us with another beautiful girl we named Julia.
My wife used to worry about me, but I said, "Don't worry; just pray," and she did. She prayed for His protection over me. I prayed as well. When I would get an assignment, I would pray on the way, asking the Lord to send His angels down and to help me be slow to speak and slow to anger and to give me supernatural peace. I would come into a situation with the authority of God, and inmates could sense I was a Christian. One inmate from Cuba told me he knew I was going to be a pastor someday.
In 2003 the Morgan Street Jail closed, so I started working in the Falkenburg Road Jail Housing Unit 11. I am a "people person," and the more I started reading the Bible the more I realized how easy it was to proclaim the Gospel (the Good News) to the inmates in the pods even though I had to be creative in my approach.
Breaking Free to Fruitfulness
Policy did not allow us to hold hands and pray with the inmates, but the inmates were allowed to have a Bible. I would have a few of them come up to my desk and open their Bibles to John 3:3-18, the passage about being born again and receiving eternal life. Then I would have the inmates turn to Ephesians 2:8, where it says, "For it is by grace you have been saved, through faith – not by works, so that no one can boast" and also Romans 10:9: "If you declare with your mouth, 'Jesus is Lord,' and believe in your heart that God raised him from the dead, you will be saved." I wanted them to experience the written Word of God. One time there were five inmates around my desk with their Bibles open. I then proceeded to do an altar call right there in the pod, and all five inmates gave their lives to Christ. Praise God! I encouraged them to continue to read the Word of God and to sign up for non-denominational church services.
My family came to faith in Christ as well. In 2002, Christina and I were blessed to lead her younger sister Zenia to the Lord, who transformed her from a shy, young girl into a young woman who unashamedly uses her amazing talents to lead worship. In 2005 I had the privilege of witnessing my dad give his life to Christ at a men's Promise Keepers crusade. My mother was a little more hesitant, not sure if my dad's conversion was sincere. But in 2007, as she battled stage four breast cancer, she accepted Christ as her Savior as well. In fact, she would experience dreams and visions from God. She had a dream about Hurricane Maria before it devastated the northeastern Caribbean in 2017. She asked the Lord to keep it from happening, but He told her it had to happen because His people had turned away from Him. My mother also led other family members to the Lord.
We are able to proclaim the Gospel to many defendants and have led several of them to repent of their sins and accept Christ into their hearts.
Today I am one of two bailiffs working in the courthouse in the misdemeanor division. My partner, Deputy Wright, is also a strong Christian, a woman of faith. Every morning before we start morning court, we pray God's blood of protection over the courthouse and the staff. We make sure to set a godly atmosphere in the courtroom. We are able to proclaim the Gospel to many defendants and have led several of them to repent of their sins and accept Christ into their hearts. I am thankful to God that He used my 26 years of working in law enforcement/corrections to share the Gospel.
In September of 2019, Christina's sister Zenia and her husband, Carlos, began attending a Bible study led by Calbert and Beverly Mark, pastors of Open Bible Prayer Chapel in Wesley Chapel. The study so powerfully energized Zenia's faith and that of her husband that they told my wife and me we had to come check it out. The Marks took our faith to another level. Soon our whole family, including my mother-in-law, Carmen, and Christina's other sister, Yaritza, were attending the study. Christina's friend Kathy started coming as well! Now Christina and I are planning to make another change in our lives, as I work toward becoming a licensed minister with Open Bible.
Calbert and Beverly Mark are native Trinidadians. Sent out from Trinidad as missionaries more than 27 years ago, the Marks established twelve pioneer works in Venezuela and were instrumental in planting churches in Trinidad and Colombia. Calbert still serves as the field director for Open Bible Churches in Venezuela. I was amazed that God would send a Trinidadian couple serving as missionaries in Venezuela to Wesley Chapel, Florida, to pour into our family, but He did just that!
About the Author
---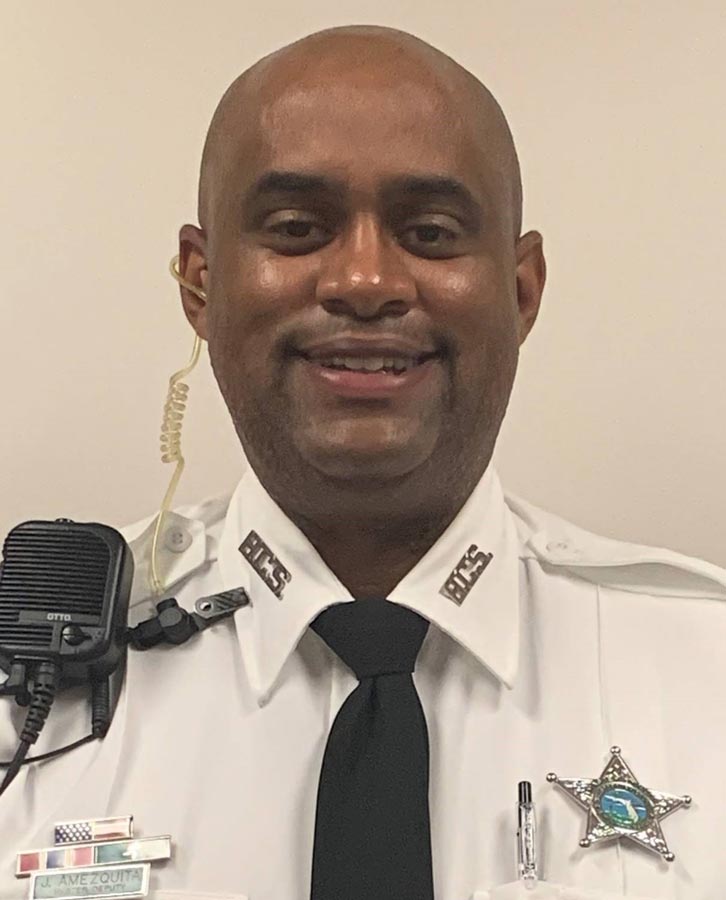 Having worked in law enforcement for 26 years, Joey Amezquita is a bailiff for the Hillsborough County Sheriff's Department in Tampa, Florida. He is a committed member and Sunday School teacher at Open Bible Prayer Chapel in Wesley Chapel, Florida, pastored by Calbert Mark. Joey and his wife, Christina, have three children.