By David Cole
---
For several years in the 1980s, I served as pastor of Pasadena Open Bible Church (POBC) in California. Our church had a noble history, but during the years my wife, Julie, and I were there, our attendance was rarely over 100 on Sundays; we usually gathered far fewer. As a small congregation, I would not describe our Kingdom impact as that of world changers, at least not in particularly impressive fashion.
But as I pause and reflect on that season of the history of POBC, I'd like to think that in some ways we exceeded expectations. (In boxing terms, we punched above our weight class.) If that is true, it is not true because of anything we attempted to do by ourselves. Some of the more memorable ministry moments we enjoyed as a congregation came about because we made the decision to partner with other believers around us and to engage in ministry opportunities that seemed much bigger than our relatively small footprint in the San Gabriel Valley.
Let me share a few examples of what I'm talking about:
In my church planting class at seminary, I met a classmate named Che Ahn, who had just planted a church in town called Abundant Life Church. He had a small core team and some others who were gathering for what looked to become a promising, growing church. But Che needed a place to meet. We had a nice facility that would work for them, if we were willing to share it. Our church and leadership agreed to allow Che's new plant to meet at POBC until they found a more suitable permanent location. Along the way, I enjoyed a few games of pick-up basketball in our parking lot with Che and some of his team members. Che's ministry in southern California has grown over the decades, and his current Harvest Rock church network is advancing the Kingdom of God around the world in significant ways. And some of that good fruit can be attributed to POBC!

Another use of our facility involved our partnership with the Korean Presbyterian church in town. They were reaching the growing Korean population in the San Gabriel Valley, but they also spent a season without a facility to meet in. Again, our congregation opened its doors, and again, our humble facility enjoyed two different church families worshiping the Lord, advancing His work in our community. And in the process our congregation learned the value of reaching across language, cultural, and denominational barriers for the sake of the Great Commission.

In 1984, the Olympic Games were held in Los Angeles. In response, the international leadership of Youth With A Mission (YWAM) organized the convergence of Olympic Outreach teams from around the world to evangelize athletes, coaches, family members, and fans who were traveling to Los Angeles in conjunction with the Olympics. Local church congregations were asked to allow their facilities to serve as home bases for the outreach teams. For a month we at POBC hosted 20-25 men and women from Australia and Germany. They slept at our facility and in our homes, held team meetings at the church, traveled to strategic locations each day for outreach engagement (which our church members were often invited to join), and then spent church service times each week with our congregation. We enjoyed amazing testimonies, wonderful contemporary worship, and the zeal of youth, and we were a part of something that had global impact.

In 1985, Billy Graham's evangelistic association organized a crusade in southern California to be held at Anaheim Stadium. For ten days that summer between 50,000 and 75,000 people packed the stadium each night to hear great music, stirring testimonies, and masterful preaching from the great evangelist. Many people were needed to minister at the altar due to the overwhelming responses that would result from the altar calls. Our church sent a number of members to the training, and POBC participated in one of the great evangelistic outreaches the region saw in the second half of the twentieth century. Our members led many through prayers for salvation and follow-up altar counseling with implications for eternity.
Of course, our congregation spent most of our daily lives simply being faithful, blooming where we were planted, loving people around us, and serving the Lord. But by the Lord's grace, we were privileged to engage in meaningful Kingdom work because we were willing to link arms with others. That opened up opportunities to allow our lights to shine in ways that never would have been possible otherwise.
Unfortunately, in today's church culture we are often very competitive with one another. All too often we're striving to come up with the methodologies or even gimmicks that will produce big numbers in our congregations. Sometimes that's because we're looking over our shoulders at our "competition" (the local congregations in our communities and regions who we sometimes fear might be showing more signs of life than we are). That underlying culture of competition can cause us to remain aloof from our fellow believers from other churches—even though these churches, like us, believe in the Word of God, preach the Gospel, and look to Jesus Christ as their Lord and Savior. When we see them in town or even think about them, it's almost as if we're preparing for the next big contest. On our not-so-good days we keep our game faces on, don't engage in friendly conversation, and treat them like our opponents rather than the teammates in God's Kingdom that they are. That attitude can leave us in isolation from the rest of the Body of Christ. And that isolation plays right into the hands of our true opponent, Satan, who wants to trap us alone, by ourselves, where we don't have the support and back-up needed to fight a winning battle. Brothers and sisters, there is a better way.
Our Pasadena congregation was never rich in attendance numbers or annual budget numbers, nor in over-the-top talent. But we were in some ways quite wealthy in our relationships in the Body of Christ, which was actually something that was within our control. We chose to connect with something bigger than us, the Big CHURCH (the Body of Christ), enabling us to connect with a Big GOD. And that allowed us, in our own way, to be world changers. Open Bible churches across the country and beyond have similar opportunities. So, shall we keep our focus on trying to build the largest local congregations we can, convinced that we'll never make a significant difference in God's Kingdom until we do? Or do we diversify our approach by finding ways to lock arms with our brothers and sisters in Christ who attend other congregations in our communities and form strategic Kingdom alliances that can produce all kinds of win-win situations? I think the choice is clear.
About the Author
---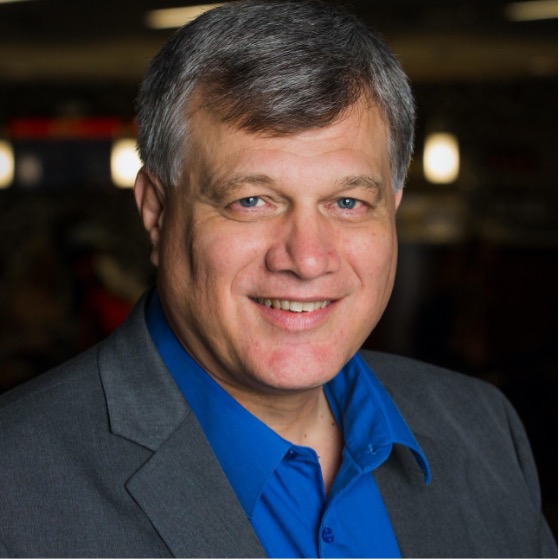 David Cole has been a credentialed minister in Open Bible Churches since 1984 and has served in various pastoral, educational, and administrative roles in support of OBC over the years. He has also served in teaching and leadership at several academic institutions and currently serves as Professor of Historical Theology and Liaison for Ecumenical Relations at The King's University in Southlake, Texas. He and his wife, Julie, have been married for forty years and enjoy their four married children and eight grandchildren.